From May 1 – July 31, 2011, I will be participating in the 5/5/5 Warrior Project through Reece's Rainbow. I will be working to bring greater awareness and grant funds to Gregory as well as all of Reece's Rainbow's 5-year old children, including those with Down syndrome and Other Angels.
*********

Instead of preparing for kindergarten like Gregory should be, he is hidden away and facing life-long suffering in adult mental institution in Russia.
Your donations and advocacy efforts truly can bring Gregory HOME into his loving forever family.
NONE OF THESE CHILDREN should ever have to step foot into a mental institution. Money is the only thing standing in the way. They deserve friends, a family, and a future.
Help my daughters and I raise $5000 or more for Gregory to celebrate Reece's Rainbow's 5 year anniversary!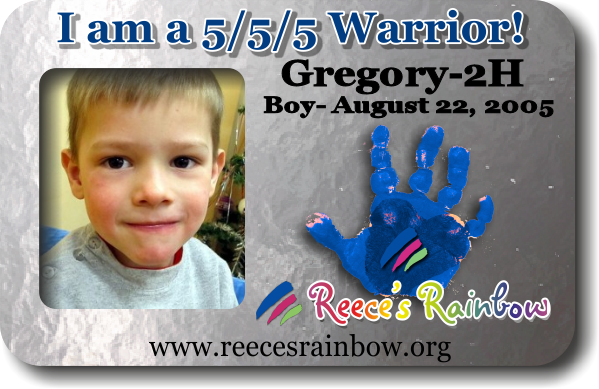 Grab This!

Be sure to right click on the box below and then select all.


Funds raised during this special warrior project will be HELD for Gregory until January of 2012, without risk of it being reallocated to the older child pages. This is a great opportunity to help these kids and make sure your efforts go for them to find a family.